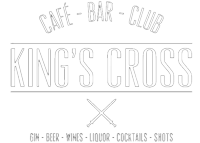 Food Menu
Take a look at our food menu.
Follow us on Instagram and Facebook to stay updated and get the latest info.
Omelette | €8.50
With ham and cheese
KING'S toastie | €4.50
With ham and cheese
Extra | €0.50
Onions, tomatoes, pineapple or bacon
English Breakfast | €9.90
Fried eggs, sausages, bacon, tomato and beans
Go for jumbo | +€2.00
SANDWICH | €7.50
With bacon and egg
PLAIN PANCAKE | €6.00
Served with syrup and icing sugar
Extra | €0,50
Ham, cheese, bacon, apple or pineapple
KING'S pancake | €9.00
With blueberries, strawberries, vanilla ice cream and chocolate sauce
Club Sandwich | €9.90
Chicken, bacon, egg, cucumber, lettuce and tomato
Grilled CHICKEN SANDWICH | €7.50
With sweet chilli sauce and jalapeños
+ BACON | €1.00
BURGER DELUXE | €13.50
Served with lettuce, tomato, cheese, bacon and Dutch fries with mayonnaise and ketchup
CRISPY CHICKEN BURGER | €13.50
Served with lettuce, tomato, cucumber, fries and homemade sauce
Nachos | €5.00
With guacamole, sour cream and tomato salsa
Nachos cheese | €9.00
With cheese, olives and jalapeños
Basket of fries | €4.00
With mayonnaise and ketchup
Bitterballen | €7.00
Dutch and famous meat-based snack served with mustard
Chicken wings | €7.50
With sweet chilli sauce
TUNA SALAD | €6.50
Mixed salad with tuna fish
Feta cheese salad | €6.50
Mixed salad with feta cheese
Brownie | €4.00
Chocolate muffin | €4.50
with salted caramel
Nishant Patel
9 reviews





Hands down one of the best pubs to chill out and have a good time in Amsterdam. Smack right in the middle of the city and near to the heart of Amsterdam. Would tell each and everyone reading this please check the place out once and trust me you will fall in love with it. P.S: there could not have been a staff more helpful and cheerful then this.

Zsófia Grimm
43 reviews





Great bar in the middle of the red light district! I don't smoke and I was surprised to find out it's absolutely breathable in there! Plus point for the Hoegaarden straight out of the tap YUMM!!

Joanna K
32 reviews





The best bar in Amsterdam; nice and cosy , staff is friendly and a huge shoutout to Aaron!! So helpful and chatty, helped us with places to go and things to do in the city! Great experience, good music and nice atmosphere, was our spot every day for the whole of our 3 day trip!

Scott Uren
17 reviews





Great pub to have a drink and a smoke. Good music and friendly staff.